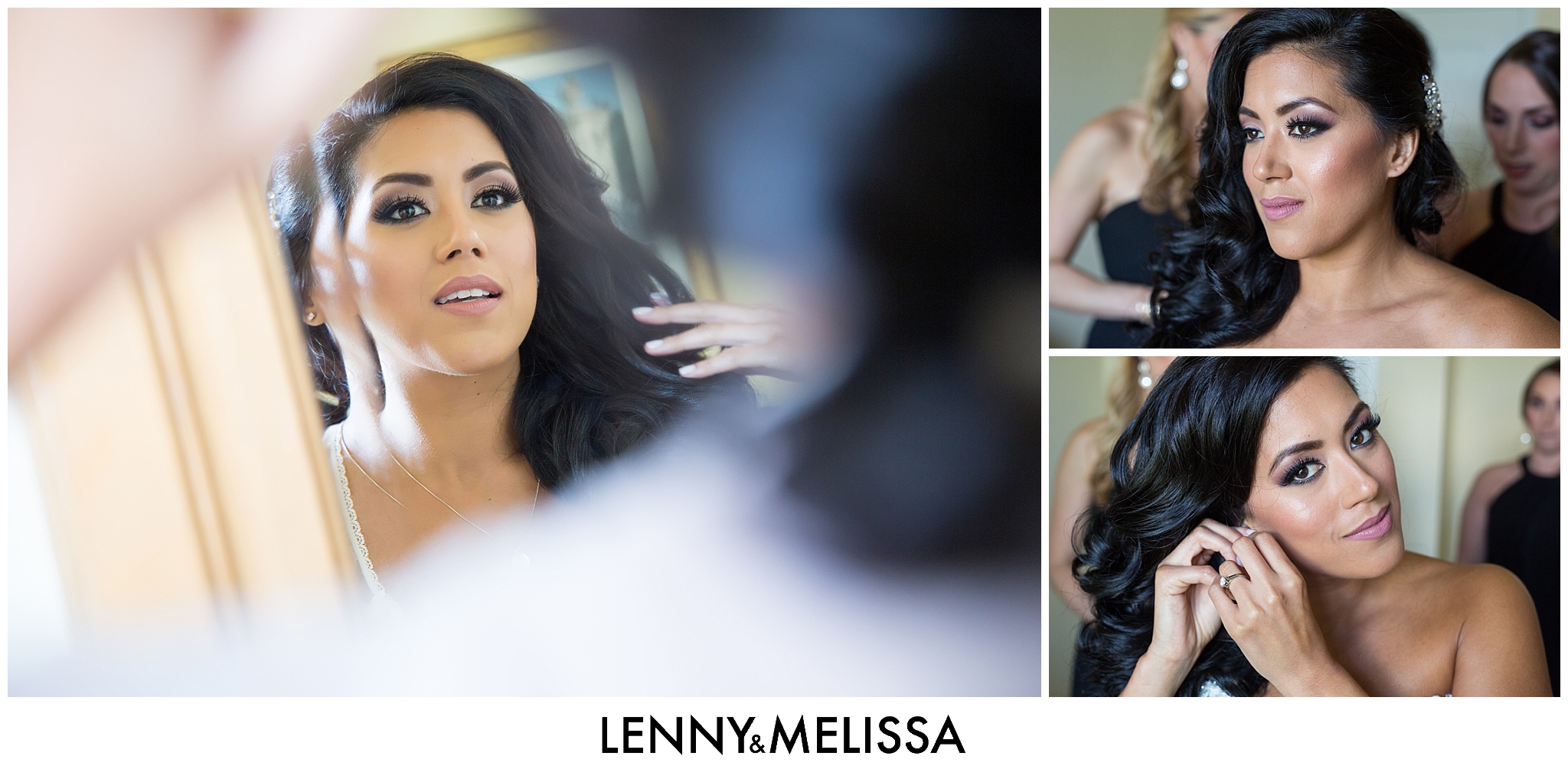 Tell us how you first met? who what when where why? give us the dirty details.
As told by Bianca: Bryant and I met at happy hour in 2012. He was working for the same company I had been working for earlier in the year, and I still maintained contact with a few people after I had left. I was invited out to have a drink with the group and reluctantly went. Little did I know this would be the first time I would meet the love of my life. Bryant will admit he thought I was a "jerk", but I still think he kind of liked me-- he would not let me leave early that night!
Fast forward to a month later: we had run into each other a handful of times since that first meeting, but nothing (not even exchanging phone numbers) had happened. Both of us will tell you that neither one of us were looking for a relationship. Another Friday had come, and a stressful workweek led us to the same happy hour yet again. It was at this point that I think we hit it off. Through a turn of events, we exchanged numbers, and Bryant called me the next day to hang out. Although I already had plans, I made some adjustments so I could hang out with that tall, dark, and handsome man.
We had our "official" first date a week later (which was more like a first date weekend) where were spent that Saturday night hopping around from a sports bar to a wine bar to a hibachi restaurant to a nightclub. It was the most amazing date because it was spontaneous, fun, and I felt so effortlessly comfortable with him. Those who know Bryant know he has a magnetic energy and radiant spirit-- I just wanted to be around him all of the time.
When did you know he/she was the one? Was there something he/she did? etc.
Bianca: I honestly can't pinpoint an exact moment… all of my best memories are with him so it always just feels like he's been there by my side.
Bryant: Our 2nd date at the zoo was probably when I knew. We laughed at each other's silly jokes (ones we still laugh about now). She was just so easy to talk to and laugh with. At no point did I feel like I had to be anything other than myself.
Tell us about the proposal. (Did you see it coming, how long was it in the planning?, how did you feel? nervous, excited, freaking out?)
As told by Bianca: As our 2 year anniversary approached, I was starting to get anxious as to when Bryant was going to pop the question. We had also gone to 9 weddings over the course of our relationship and the curiosity was starting to set in as to when I would be the next in line. Getting married was something that we had talked about as an obvious outcome... but not as something that was definitely going to happen soon.
We had trip scheduled to the Dominican Republic to celebrate our anniversary, and I thought, "will he do it there?". The 2 weeks leading up to our trip, Bryant had been spending a lot of time working late and making plans that excluded me-- I really didn't think he was ring shopping! Eventually, I broke down in tears, upset that we weren't spending any time together. He assured me that weekend we would spend quality time together and go to dinner.
Saturday, September 27th, I woke up to 2 roses on my nightstand with a card that outlined the activities to the day. Each card was numbered 1 through 12, each with a reason why he's grateful I'm in his life. We went about our day getting massages, running errands, etc. We left for dinner- which turned out to be a recreation of the events on our "first date". There was a rose waiting for me at the wine bar (#10) and at the restaurant (#11), and I was so sad that #12 would be the end of our date day. After a series of mishaps (primarily attributed to the rain), Bryant walked me to a secluded courtyard where there was a table, champagne, candles, and rose #12. I'm sure you can figure out the rest! I can honestly say that I was not expecting the day to end that way, but I'm so happy that it did.
 
Tell us the one thing you love most about each other.
Bianca: I love Bryant's charisma. He's my best friend. We have so much fun together doing everything and nothing at the same time. Plus, he's really easy on the eyes.
Bryant: She's so silly. She's so beautiful and everyone thinks we're so well put together, but we joke around a lot. We were secretly making fart jokes at the altar to calm each other's nerves and keep me from crying.
If you feel comfortable, share with us something silly or quirky the other person does.
Bianca: We have a lot of inside jokes which Bryant usually repeats in really bad accents/voices. They're so funny to me but I'm sure everyone around us thinks we're ridiculous.
Bryant: Bianca falling asleep is a process. I have to make sure a bunch of things are done before I can get into bed (i.e. fan on, blanket ready, her leg pillow has to be there, pillow pets) and then she weaves her legs through mine and has to touch me with the other foot. She looks like a starfish but I wouldn't have it any other way.
Besides getting married - whats the one thing you are looking forward to on your wedding day?
Bianca: Being surrounded by our closest friends and family members. We love to have fun and dance, so to have everyone we love around us was really exciting. Also, I had been keeping it a secret that we were having Burnie from the Miami Heat come to hype up the crowd during our 'hora loca'— The Heat are Bryant's favorite sports team so I knew he'd be really excited by the surprise!
Bryant: I was looking forward to seeing her walk down the aisle for the first time. I'd thought about that moment for so long and couldn't wait to experience it. The anticipation was killing me.