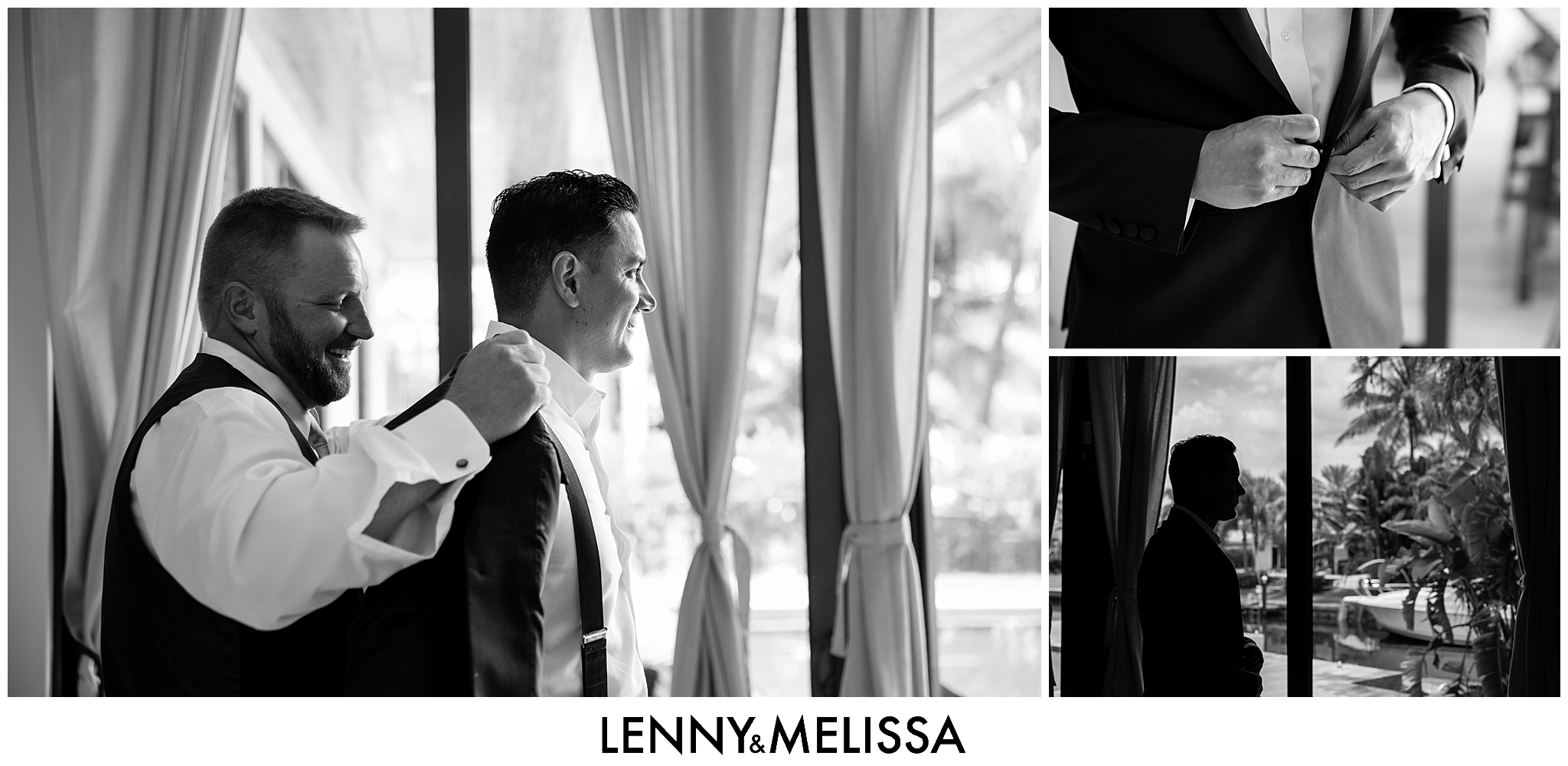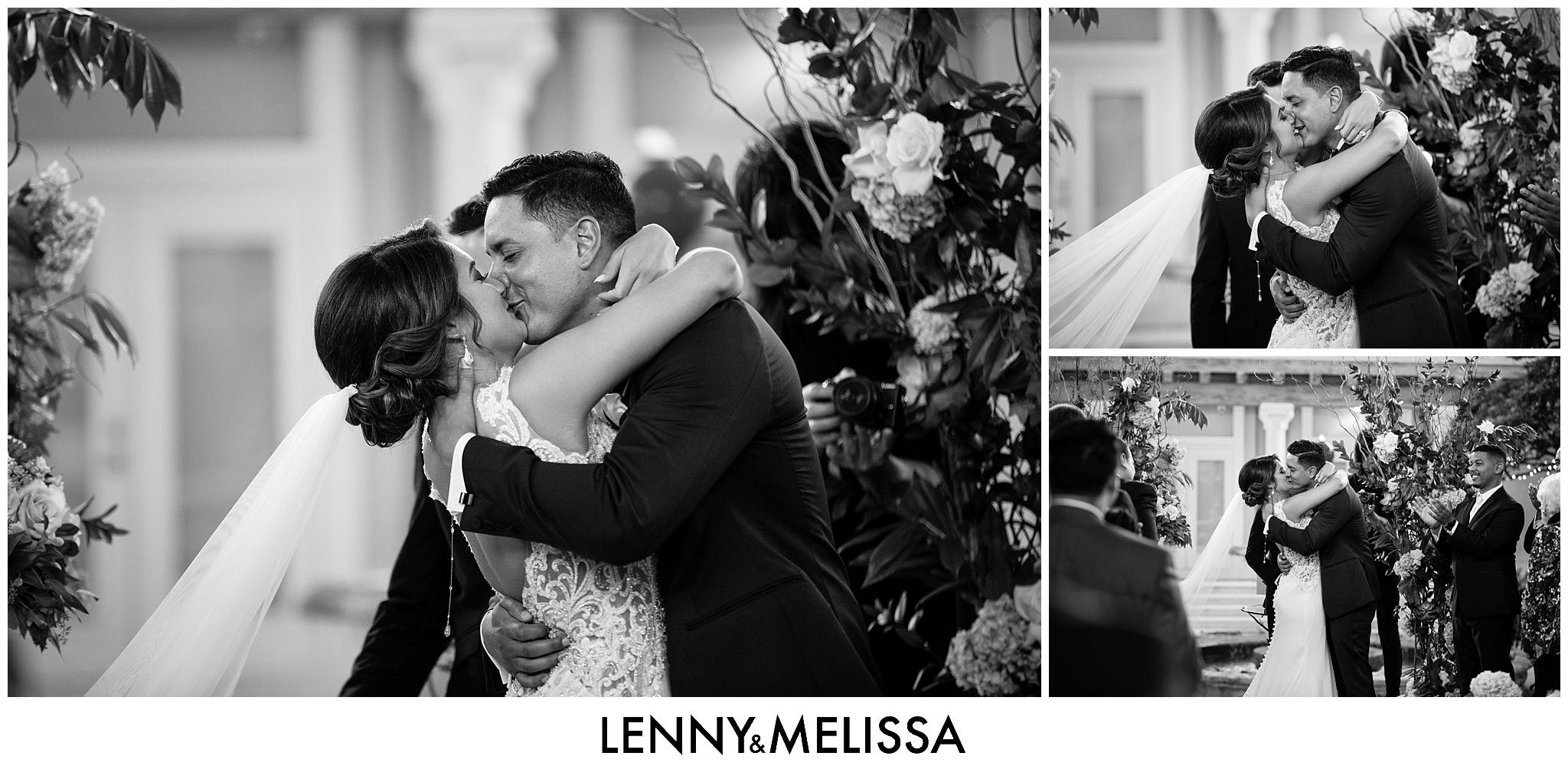 Tell us how you first met? who what when where why? give us the dirty details.
Indira: We've known each other since I was 11 and Luis was 19. All I remember from our first encounter was a "bad boy" in a tank top, with braids, a "mom" tattoo, and he was smoking a cigarette. Not quite prince charming, but still charming in a weird way. However, life took us in different ways. For about 10 years or more, we were out of mind, out of sight. Three years ago, when I was planning on going for my masters, his mom suggested I talk to him for advice since he had just graduated with his MBA. We had a couple of calls, strictly business, before we met again at one of the stores our parents opened up together. From that first in-person encounter, we went from family friends and mentor/mentee to full-blown lovers. The timing wasn't the best, and no one really wanted us to be together, but we were our own kind of Romeo and Juliet and we couldn't help the attraction and chemistry.
Luis: I always saw Indira as one of the young ladies of the family. This sounds so creepy, but even when I met her as an 11-year-old, I used to joke around with my friends about her being a "futurito" (Venezuelan slang for "girl with a future"). During the summer of 2014, I was bored in South Florida (living in NYC at the time) on vacation one day, and I called Indira to see if she wanted to meet up to talk about her grad school journey. I remembered her being a cute young girl, but I was completely thrown off guard when this beautiful 23-year-old woman showed up to meet with me. From then on, my mindset went quickly from professional to head-over-heels and I made it clear from that very day. We haven't gone a day without talking since...
When did you know he/she was the one? Was there something he/she did? etc.
Indira: I don't know when I knew, and he never did anything that caused that "ah ha" moment. I think I just knew from day 1, we were inseparable, and the same person. I guess you can say we've been "one" since the very start.
Luis: I knew I was in trouble the day I told Indira that I had to take a two-week business trip. We were long distance for the first few months of our relationship and I only saw her every other weekend. We had a small argument one day, and my way of repairing was telling her that we needed to make up quickly because I wasn't going to see her for 3 weeks. The moment I said that her eyes filled with tears and suddenly the argument didn't matter. I knew then that she loved me and longed for me and that it was exactly the pain that I felt knowing that it would be so long before seeing her again. I think it clicked at that moment, that I wanted to be loved by her and only her and that I wanted to be the one to make her happy.
Tell us about the proposal. (Did you see it coming, how long was it in the planning? how did you feel? nervous, excited, freaking out?)
Indira: I can't even say it was a dream come true because never in my wildest dreams could I have imagined an engagement so awing. We had always planned to go ice skating at Rockefeller Center when I moved to NYC, it was one of the items on my bucket list since I had always seen it in movies and felt it be so intriguing. Well, the first winter came and went and it didn't happen. When my second winter in NYC came, I nagged about it all the time, until he told me one day he pre-bought tickets. The day before the engagement he took me to best-buy to buy the go pro I had been wanting for a while so we could take pictures. Thank God for that because it was the only reason that forced me to do my makeup and hair that morning - knowing we'd be taking pictures/videos with our new camera. The day came, I met him there because he was working that morning (his job was in the same building). We skated, had a blast, took pics here and there (not with the go pro, they didn't let us have it on the ice), did a case study (because we're nerds), the poor guy even fell and got a terrible laceration on his side. When it was time to go, he said he wanted to go around one more time, and me being my difficult self, I kept trying to rush him off of the ice. Finally, he gave up and said, "fine, let's at least take one last picture." At that moment, he gave the camera to an employee, and our song started playing through the speakers. I looked at him and said, "what a coincidence, they're playing our song!". And that's when it happened, the last words I recall were him saying "it's not a coincidence" and dropping to one knee. I was so overwhelmed with emotions, I just remember looking around in disbelief and there being absolutely no one on the ice with us but instead huge crowds of people cheering all above us. I still remember his face, he was so nervous and shaking, and I couldn't hear a word he was saying until he said, "will you marry me?" I never thought I'd cry, in fact, I was sure I wouldn't. To my surprise, I didn't stop crying all day - seriously. He also had my friends/family fly in and surprise me during lunch, and then later that night he surprised me again by renting an Airbnb (decorated with pictures of us) for all of our friends and family to stay together for the weekend. He also threw a party for us that night and invited all of our friends over. It was just amazing from beginning to end.
Luis: Indira and I are pretty transparent with our phones, email, and social media... so planning this behind her back was nearly impossible. Thank goodness, her friends and family were all so willing to participate and help me pull things together behind the scenes. Fortunately, I put on a good show and managed to stay calm, collected and really busy with work, in order to carefully plan the big day. I mostly managed to keep it together until the very end. I made it seem like a very routine day and even let her get mad at me for being a few mins late to the skating rink (work... ugh). At any rate, everyone at the skating rink acted super natural and some of our friends even hid in the crowd surrounding the rink and managed to get some really great candid pics of our special moment (kudos Kristen and Elvis)! I rehearsed a ton what I would say, and I had it down, but as soon as the clock started counting down and I knew that it was almost time to clear the ice to propose... I lost it. My palms got sweaty, my voice cracked, and I started shaking as I bent down on one knee... I went through the checklist one last time in my head: asked her father for permission (check), used her full name (check), down on one knee (check), ring in my pocket (check), now I just have to tell her I love her and ask her to marry me! She said yes! It was wonderful! I shook for a full hour even after it was over. Another thing I forgot to mention was how hard it was to hide the ring and keep it under wraps...
Tell us the one thing you love most about each other.
Indira: I love that he is my twin. We enjoy the same things, we have the same ambitions, the same values, the same personality (the good and the bad). We're so alike that so many people have asked us if we're related. There have many countless times that we say the same thing at the same time, or we both randomly start singing the same song at the same spot, and this has been happening since Day 1. It's creepy, really creepy, but I love it.
Luis: I like that she is smart and beautiful and always finds a way to anticipate my thoughts and needs. I spend so much time with her and it ever gets old. I love her tastes and smells as if they were my own.
If you feel comfortable, share with us something silly or quirky the other person does.
Indira: Luis is amazing at impersonating anyone and mimicking accents. It is hysterical! My favorite is his Forrest Gump and Jenny impersonations. The only thing that sucks is that he won't do it for others, it's a hidden talent, but oh, such a funny one.
Luis: Indira spent so much time on Pinterest for the wedding that she saw the entire site and kept tuning into the same pins, over and over. Needless to say, she can be relentless in her pursuit of option overload. Indira is a perfectionist, but also has a very addictive personality. If she likes a show, she can binge an entire season in a day or two... that's intense...
Besides getting married - what's the one thing you are looking forward to on your wedding day?
Indira: Seeing all of my friends and family from all around the world together in one spot - drinking and dancing.
Luis: In addition to what Indira said, I look forward to seeing her walk down the aisle in the beautiful dress that has been kept a mystery from me for so long. Also, we have been celibate for some time so I am very much looking forward to what is to come after the reception...